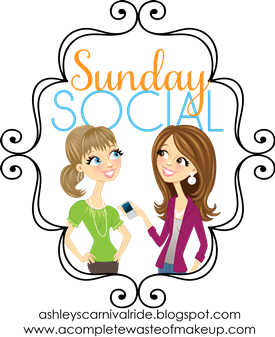 I've never participated in a link-up before but I saw this one on another blog and it seemed fun so I thought I'd give it a try! This link-up is brought to you by Ashley Lately and A Complete Waste of Makeup.
Today's topic is about fives..
1. 5 songs you'll listen to the rest of your life:
1. "By Your Side" by Sade
2. "If I Should Fall Behind" by Bruce Springsteen
3. "Time to Say Goodbye" by Andre Bocelli and Sarah Brightman
4. "Tupelo Honey" by Van Morrison
5. "Kind of Blue" (entire album) by Miles Davis
2. 5 things on your bucket list:
1. Visit Europe
2. See Amos Lee and Ray LaMontagne in concert (not together)
3. Visit South America
4. Own a home with land big enough to have goats and chickens and other adorable animals
5. Find a career that I enjoy everyday
3. 5 Celebrities you'd love to hang out with for a day:
1. Jennifer Lawrence
2. Emma Stone
3. Sienna Miller
4. Channing Tatum & Jenna Dewan
5. Selena Gomez
4. 5 things you always carry on your purse:
1. Wallet
2. Phone
3. Multiple lip balms
4. Camera
5. Gum/Mints
5. 5 Books on Your Reading List:
1. "The Light Between Oceans" by M.L. Stedman
2. "The Dog Stars" by Peter Heller
3. "Me Before You: A Novel" by Jojo Moyles
4. "The Starboard Sea" by Amber Dermont
5. "The End of Normal" by Stephanie Madoff Mack
6. Share the last 5 pictures on your phone:
Trying my hand at pot roast in the slow cooker for Sunday night dinner.
Trying to show my mom and sister my new highlights. Creepy picture.
The cutest little nugget ever
My #tbt Instagram picture from Thursday from our trip to California last summer!


Having a glass of wine at my parents house on Tuesday


My first link-up was pretty fun!
Next week's questions:
1. What is one movie you are terrified to watch?
2. What is one TV show you have always wanted to get into but haven't yet?
3. What is one daring activity on your bucket list?
4. Would you ever travel alone?
5. What activities do you like to do alone?