My thoughts on...
..my profession. At dinner last night I sat next to two women talking about their journeys to becoming teachers. They are career changers, probably 25-28 years in age, and seemed relatively excited about becoming teachers. I have so many thoughts on this. There is so much of me that wants to say, "run! save yourselves! stay in that cubicle! you'll appreciate it on a Friday after too many wines!" but then there is so much of me that feels overwhelming joy and compassion for these two. This job isn't easy and I do not believe for one second that the first year is the hardest. There are hard years and there are harder years but sometimes, every now and then, you get a glimpse of why you do this. For instance, tomorrow is our faculty basketball game verse the local high school and my students could not be more excited to see me play (I suck buuuuut most of them don't know that) and have told me how pumped they are to cheer for me!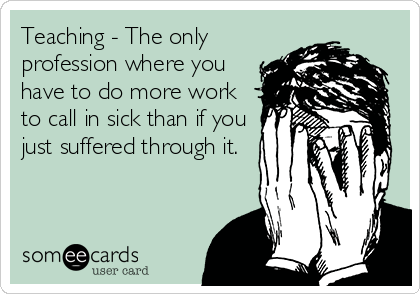 This would something to add to the list of reasons NOT to be a teacher.
...
barre
. Before my wedding in 2011, I went religiously to a barre/pilates class at this super fancy gym I totally couldn't afford but justified because duh, I was getting married. Then, I discovered
Pop Physique
and was hooked on that for awhile. After that, G and I decided that a gym membership was going to be our Christmas gift to each other this year and lo and behold, about two weeks ago our gym added a barre class to the group fitness classes. I went on Tuesday and it reminded me so much of
Pop Physique
and I loved it. Going again tomorrow and Sunday and can't wait! I was and still am a Bikram junkie but sometimes it is so fun to workout for only an hour and to some pop music!
Happy Thursday!!