Back again with another Friday Five!
1.
Favorite Dessert
: I try so hard not keep sweets around the house but then I go to Whole Foods when I'm starving and somehow
Steve's Salty Caramel Ice Cream
ends up in my freezer. This is the stuff dreams are made of! I should preface this by saying that I am admittedly obsessed with sea salt caramel anything so this ice cream is right up my alley. The perfect blend of vanilla ice cream and salty caramel. I could eat this for breakfast, lunch, and dinner. You also gotta love that this ice cream is straight out of Brooklyn.
2.
Favorite Planner
: I've been through my fair share of planners, Kate Spade, Erin Condren, and Whitney English. I used to be all about the WE Day Designer. This year, however, I couldn't bring myself to pay $70 for a planner. I mean, let's be honest, some weeks I completely forget to even write in it so shelling out a lot of money wasn't happening this year. I still have to have a planner though, so I bought one of the
Sugar Paper for Target
2015 planners for 9.99. I love this planner! The way the weeks are set up is perfect for me. The rigidity of the Day Designer just isn't my style, I like being able to write different times and to-do lists in the day space. Plus, it gave me anxiety whenever I wrote a task on the wrong line and then had to cross it out and put it next to the correct time. I don't need that kind of stress in my life, ha!
3.
Favorite Podcas
t: Ever since listening to Serial, I've become obsessed with podcasts. I love listening to podcasts on my way to work in the morning, such a nice change from the radio or silence! I really, really enjoy the TED Radio Hour podcast. Each podcast is a different subject like success or learning and it is basically TED talks that deal with that subject adapted for radio. The host, Guy Raz, interviews the TED Talk speakers during the podcast as well an it makes for a great show! You can listen
here
on the computer or download the Podcast app and search for NPR Ted Radio Hour. Some of my favorites have been Simply Happy, Unstoppable Learning (prob my number #1 fave!), Seven Deadly Sins, Success, Brand over Brain, and How We Love. Check them out if you're looking for something new for your morning commute or workout!
4.
Favorite Bag
: For my 30th birthday, my mom gave me the
Gigi New York Olivia Shopper in Saddle Pebble Grain
and it is the prettiest and nicest bag I've ever owned. It is big but I like that in a purse! It holds everything I need so I'm never worried about forgetting something! A real plus is the fact that it can be worn on your arm or as a crossbody. I was initially worried that it would be too bulky as a crossbody but I wore it out to a pretty crowded bar on a Friday night and it was perfectly fine :)
5. Favorite Weather: I know most people in my area are completely sick of the snow but since I'm working on a four day weekend, I am pretty happy! I can't complain that I only worked one full day this week. A lot of people get bent out of shape thinking we'll have to go well into June but since I teach P.E. all of our units at the end of the year are outside so I'll take some days off from being stuck in a gym with 60+ kids!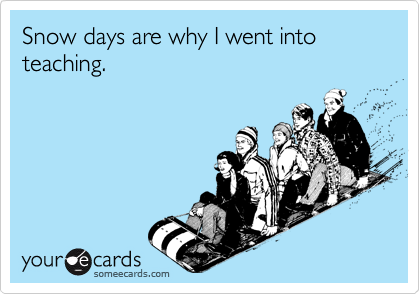 Not really.. but maybe a little :)
Happy Friday, friends!