Let's pretend I didn't take an almost month long hiatus, okay? Because LIFE. I hate using the busy excuse because that's not really it, its actually terrible time management on my part. But let's pick back up with another installment of Five on Friday!
1. Friday + Saturday + Sunday: I am so looking forward to this weekend. Even with a snow day Monday I feel like I've been dragging ass/losing my shit all week. I rear ended someone - who turned out not to be just a someone she was actually in my sorority in college. Let me tell you, its equal parts good and equal parts totally humiliating to rear end someone you know. Thankfully, there was very, very little damage and she was incredibly understanding about the whole thing. I am seriously a terrible driver. Then, later in the week my 6th period class (which is full of Regina Georges and I am everyone in the Burn Book) caused me a huge embarrassment in front of coworkers that I'm not that familiar with so that didn't feel good.Like I haven't been that humiliated in my professional career thus far kind of embarrassment. Did I mention that there were shooting rumors at my school? That was fun. But you know what did make me feel good? Book club and cupcakes on Wednesday and my pup and red wine on Thursday.
2.
Pop Physique and Bikram Yoga
: I've been dragging my tired/frustrated/cranky ass to Bikram every Tuesday evening at 6pm and Friday morning at 6am. Its brutal but worth it. I've also managed to make it to Pop Physique almost every weekend. Loving it all but also need to hit the pavement -- half marathon in less than two months! Yikes. Not sure what I was thinking.
3.
Shoshanna Lace Olivia Dress
: I found
this dress
on super sale at a local boutique here in Baltimore. I am wearing it this weekend to my husband's work gala. I am so excited to get dressed up and go to something fancy. As awesome as it is to wear yoga pants, tee-shirts, tennis shoes, and no makeup to work everyday, it does get old after awhile so I am pumped to get fancy this weekend! I am also getting my hair blown out and styled at
Haute Blow Dry Bar
--I've never visited one of these before so I'm very excited.
4.
Wedges
: I am about five years late to the game but I just discovered how awesome wedges are and now own three pairs. The same night I found the Shoshanna dress I found these
L.K. Bennett wedges
on super sale at another local boutique. Last pair and in my size- fate if you ask me. They are so comfortable and really elevate an outfit. I wore a sweater and skinny jeans with the wedges to dinner the other night and felt like I looked so much better than I would have if I was wearing flats. The other two pairs I own now are the
J.Crew Factory Sylvia
wedges in bronzed clay and black, both bought during the 40% off and 30% off sale making them come in at well under $100 including shipping!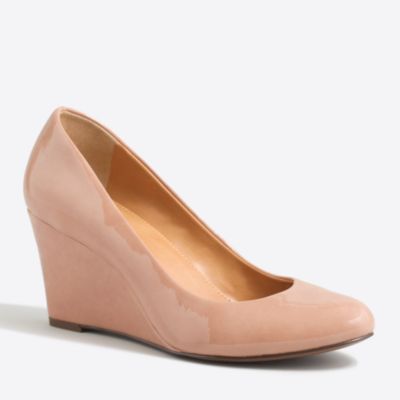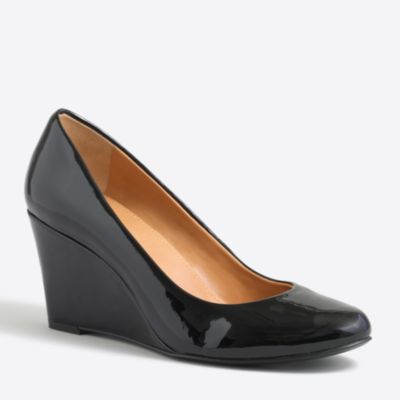 5.
Nike Air Max 90
s: On the flip side of my newfound love of wedges is an old flame that still burns, the Nike Air Max 90s. I love these shoes and recently acquired a new pair via eBay for an incredibly reasonable price. G got a new pair as well. The couple that wears Air Max 90s together, stays together. That's the truth, y'all! I wear them all the time with ankle jeans and a sweater or with black leggings and a chambray shirt. My original pair is very bright-- mostly pink and purple with touches of gray so I was looking for a more neutral pair-- although I wouldn't necessarily call the ones I just got neutral, they're not as loud as my current pair :)
These are the closest I could find to my original pair, mine are a tad different (via)



The new pair!


Happy Friday, friends! Hope you all have a lovely weekend!