1. I've been home from work with a very sick husband the past two days. I guess after I left for work on Wednesday he couldn't even get out of bed. He finally called to tell me he had a fever over 102. We spent Wednesday at Righttime because the ER near us had a 6-8 hour wait. I was given strict instructions to watch him and if his fever got up to 101 (it was down after some Motrin) that he was to go directly to the ER. Scary stuff. Thankfully, his fever hasn't gotten up that high again but its not consistently down either. We're off to the regular doctor this afternoon.
2. I was given a gift card to J.Crew for Christmas and I'm torn over saving it or spending it now. I'm really loving the popover look and am contemplating purchasing the faded chambray popover. But I already have a chambray shirt so I don't want to regret it later. There are popovers in other colors but I'm not sure I love those as much. Anyone out there have a popover?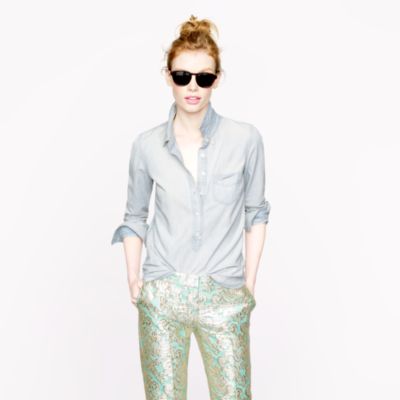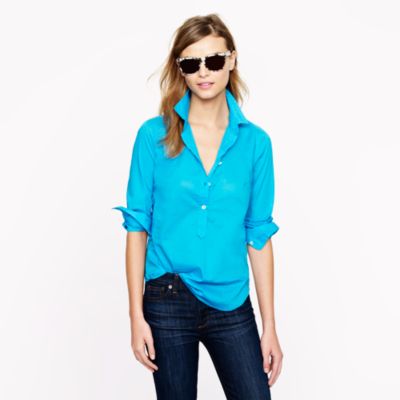 Both images via jcrew.com
3. Do you workout on the regular? Do you have a Walmart near you? Do you mind shopping there even though they use unfair labor practices? I know I should be morally opposed to Walmart but I can't help it. The prices are just too damn good. Since workout clothes are my work clothes I'm always on the hunt for cheap but good quality workout clothes. The Danskin collection at Walmart is awesome. I purchased two tank tops and a sports bra last summer and I was amazed at the quality. I recently purchased a zip-up and a pair of leggings which are equally as awesome. The clothes feel like something way more expensive. I think I paid 11 for the leggings and 13 for zip up. Unreal. I couldn't find the zip-up online but the leggings can be purchased
here
.
4. I recently got a haircut. It is much shorter than I wanted and I really have no idea what to do with it. I haven't had hair this short since I was in 7th grade. That's pretty much how old the haircut feels. It is really not in style at all. The only redeeming factor is that my hair feels healthier.
I wanted something like this:
and ended up with something more like this:
5. I'm headed to
Farmers Fishers Bakers
in Georgetown for dinner on Saturday. I can' wait. The
menu
looks fantastic and it will be nice to catch up with the girls!
I hope everyone has a lovely weekend ahead of them. I'm hoping for the husband to make a full recovery!